Sherry
Kim
Hi my name is Sherry I am co-owner of Mapleleaf Hair and have been in the industry for 20 years all of which have been here at Mapleleaf. I absolutely love my job and enjoy chatting with people. I enjoy doing all hair services we offer at Mapleleaf Hair. It's so rewarding to have a client leave with a smile on their face. That is why I take pride in my work.
 Hi I'm Kim, co-owner at Mapleleaf Hair. I've been here since day 1! I LOVE my job!! It's always interesting and fun meeting people and making them feel special and look great! I specialize in hair coloring ❤ (balayage, foiling, color melts, etc), texture waves, women's cuts, styling, updos, mens cuts, clipper cuts, children, smoothing system & waxing. I love make-overs and making people beautiful!!! I can't wait to meet you!
Call 651-738-2666 to schedule an appointment.
Angie
Tonya
Harland
Hi! I'm Angie. I have been a stylist for 23 yrs. I've been with Mapleleaf for 13 yrs. I love making people look and feel beautiful!!! I work evenings and Saturdays. Hope to see you soon!
Hi! I'm Tonya! I have been passionate about hair for 13 years. I love cutting and coloring!
Hi, I'm Harland! I graduated from Minnesota School Of Cosmetology in 2007. I love my job, and enjoy helping my clients feel confident and good about themselves! My specialty includes men's clipper cuts, women's short and long hair cuts, coloring and waxing. Continued education and keeping up on the latest styles help me keep up on a welcomed challenge. I consider myself a people person and love meeting new people and also chatting with current clients!
Call 651-738-2666 to schedule an appointment.
Pam
Bill
Nicole
 Hi, my name is Pam! Mapleleaf Hair has been my home away from home for the past 22 years, all together styling for over 30. I LOVE making people of all ages feel confident and beautiful!
Salutations, I'm Bill Buda Master Barber. For the many years that I've been a barber, I have always stayed up with modern mens styles and of course remained true to the classics. Barbering is my passion. I would be proud to serve you at Mapleleaf Hair. Let me be your stylist with a cut, color etc. Put your best image in my hands.
      Hello, my name is Nicole. I've been a Hairstylist for four years. I graduated from Minnesota School of Cosmetology in 2015. My specialty is clipper cuts! I also love cutting men, women and of course kids hair, along with colors, perms and facial waxing. I'd love to see you in my chair!
Call 651-738-2666 to schedule an appointment.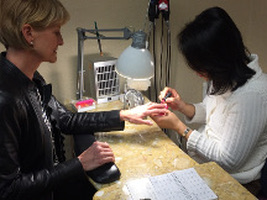 Vivian
  Nails by Vivian
Gel Manicure    Spa Pedicure     Artificial Nails
Call for an appointment with Vivian 612-267-7013